Swedish Black Metal Legends WATAIN
Tour US in November & December
Along with Morbid Angel, The Trek Will Visit 26 Cities
Swedish Black Metal legends Watain will be touring the U.S. this November and December together with Death Metal overlords Morbid Angel.
This will be the final tour and closing chapter for Watain's highly acclaimed 6th album Trident Wolf Eclipse.
The band's 20 year history has been edged by controversy and infamy as much as ardent praise, much due to the uncompromising nature of the band's artistic approach.
Only in the last two years there have been concerts cancelled, bans, censorship but maybe most of all a bewildered amazement over the intensity and honesty of Watain's performances.
Whether you want to see what the fuzz is about, or if you simply want to experience lawless Black Metal magic and primal raw force before the year ends, make sure to catch Watain on this tour.
Please let me know if you'd like credentials for any of the dates below!
____________________________________________________________
Here's what the press has had to say about the mighty Watain:
"The band have grown more powerful in their trademark style, and they stand alone at the precipice of their unholy niche."
– Skulls N Bones
"An album which showcases a band at the top of their game."
– Cryptic Rock
"It firmly puts itself in legendary status."
-Highwire Magazine
"There is no space for gazing, politics or safety in Trident Wolf Eclipse. This is filthy, decaying music for a filthy, decaying world. Tread carefully."
– Metal Insider
"Watain succeed in crafting a two-faced creature for those seeking to bang their heads or brood in nihilistic contemplation."

-Exclaim
"Trident Wolf Eclipse sounds fucking enormous but it also sounds intimate — the work of an obsessive craftsman who was fastidious in his approach — and it rewards intimate attention."
-Stereogum
"Few bands execute this kind of imperious, misanthropic extreme metal with anywhere near this level of flair or conviction"
-Team Rock
"The band sounds as dangerous and evil here as it usually looks in its blood-soaked, fire-bathed live performances."
-KNAC
____________________________________________________________
If you haven't seen them live yet, give a few minutes to check out Watain's last performance this September and see what they're all about: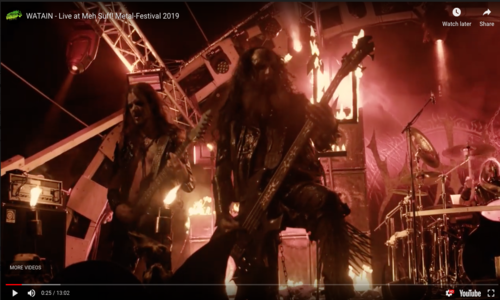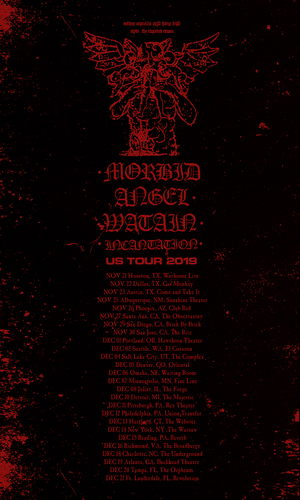 MORBID ANGEL
WATAIN
with Incantation
US TOUR WINTER 2019
NOV 21 Houston, TX, Warhouse Live
NOV 22 Dallas, TX, Gas Monkey
NOV 23 Austin, TX, Come and Take It
NOV 25 Albuquerque, NM, Sunshine Theater
NOV 26 Phoenix, AZ, Club Red
NOV 27 Santa Ana, CA, The Observatory
NOV 29 San Diego, CA, Brick By Brick
NOV 30 San Jose, CA, The Ritz
DEC 01 Portland, OR, Hawthorn Theater
DEC 02 Seattle, WA, El Corazon
DEC 04 Salt Lake City, UT, The Complex
DEC 05 Denver, CO, Oriental
DEC 06 Omaha, NE, Waiting Room
DEC 07 Minneapolis, MN, Fine Line
DEC 08 Joliet, IL, The Forge
DEC 10 Detroit, MI, The Majestic
DEC 11 Pittsburgh, PA, Rex Theater
DEC 12 Philadelphia, PA, Union Transfer
DEC 13 Hartford, CT, The Webster
DEC 14 New York, NY ,The Warsaw
DEC 15 Reading, PA, Reverb
DEC 16 Richmond, VA, The Broadberry
DEC 18 Charlotte, NC, The Underground
DEC 19 Atlanta, GA, Buckhead Theatre
DEC 20 Tampa, FL, The Orpheum
DEC 21 Ft. Lauderdale, FL, Revolution
See more news on YesterdazeNews.com